Discover more from Power Platform Weekly
Weekly newsletter with links to Power Platform related Microsoft and community resources. ✍ Curated by Carina M. Claesson, Daniel Laskewitz, Ed Gonzales and Magnus Gether Sørensen.
Over 4,000 subscribers
Power Platform Weekly - Issue #85
Welcome to Power Platform Weekly!
It is time for Microsoft Build! Take part of exciting announcements and connect with Microsoft and community members from around the world. Don't miss your guide to Power Platform at Microsoft Build.
Last week the Power Cat Creator Kit was introduced as a collection of code and canvas components, templates and utilities to help makers build Fluent UI in Power Apps canvas apps and custom pages. 
GA of the Power Apps modern app designer was announced too and other news were that April brought us 14 new and 15 updated certified connectors. The one with an eye for details will notice that it says 700+ connectors (!) in the link.
Is it possible to restore a deleted flow? Yes it is! Earlier presented by Taiki Y and this week explained under the articles section.
Thanks for reading and enjoy #MSBuild and all other adventures this week will bring!
---
📰 Articles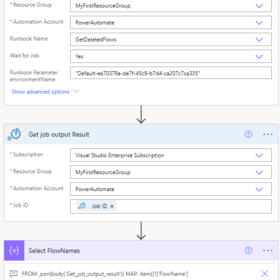 🚀 As an admin you might know that if a user deletes a flow, you will need to raise a call with Microsoft to restore that flow to Power Automate. Until May 2022 that is, when the Restore-AdminFlow cmdlet was released!
🦸🏻‍♀️ In this article, Matthew Devaney shows us how to create multiple page forms in Power Apps canvas apps and he reveals how to perform data validation before going to the next page.
👩‍💻 When we have set up a Virtual Table/Entity in Dataverse, sometimes there is a scenario that data updated in the source system needs to trigger a Dataverse event (that contains custom business logic). In this article, Temmy Wahyu Raharjo teaches us how to enable Virtual Tables to support Dataverse events.
Other articles
🦸🏻‍♀️ Tip #1438: Turn on auto search for lookups by CRM Tip of the Day 
🦸🏻‍♀️ Where's my old app designer?! by Olena Grischenko
🦸🏻‍♀️ Omnichannel for Customer Service – IVR BOT Skills Based Routing by Neil Parkhurst 
🦸🏻‍♀️ Get notified when someone edits a file in Microsoft Teams by Rishona Elijah 
🦸🏻‍♀️ Blocking Attachment Extensions in Dynamics 365 CRM by Priyesh Wagh
🦸🏻‍♀️ Omnichannel for Customer Service – Emergency Situations by Neil Parkhurst 
👩‍💻 SQL 4 CDS 6.2 Released by Mark Carrington 
🦸🏻‍♀️ The canary in the coalmine by JOPX
📺 Videos
🎙️ Podcasts
🙁 Not much to say except thanks for listening! We have loved every moment of this journey, and appreciate all of you who have listened, liked, shared, commented, and joined us each week. Thank you! 💗 If you enjoyed this episode, we'd love to know 💗 Tell us why you listen and we'll share it on...
👩‍💻 Daryl and Scott interview Jonas Rapp, the other co-host of the XrmToolCast, and chat about his Early-bound experience and feature requests for the EarlyBound Entity Generator. Some of the highlights: Daryl makes himself a fool, Daryl teaches Jonas about Benedict Arnold, Jonas dives into his Early-bound experience, Deliver 100% of your obligations in 25% of your time.
🧭 The hosts are joined by Anna Wykes who is a Senior Consultant at Advancing Analytics. Anna is a Microsoft Valued Professional and shares her story of how she entered the world of IT after studying Photography.
📅 Events & Webinars
📅 May 24th - 26th - Come together and discover the latest innovations in code and application development—and gain insights from peers and experts from around the world.
📅 May 26th - This edition of Power BI Dev Camp will contain a session about Power Query custom functions with Ted Pattison and special guest Alex Powers!
💙 Out of the Blue
🦸🏻‍♀️👩‍💻🚀 Microsoft announced the general availability of the modern app designer, enabling a seamless, intuitive way to build robust model-driven apps with Dataverse grids, forms, and custom pages with just a few clicks.
🦸🏻‍♀️👩‍💻🚀 Power Automate for desktop comes with new additions in May 2022 release, including some enhancements in browser automation actions and an improved experience for limited permission users in the console.
🦸🏻‍♀️👩‍💻🚀 Microsoft launched 14 new API Owner connectors and 15 updates in April 2022. Read the post to learn more about the capabilities of these services.
👩‍💻🚀 This month, there are a lot of new updates for the Power Platform Command Line. You can now use pac solution unpack together with the processCanvasApps parameter. This will give you the possibility to unpack a solution and the included canvas apps as well.
🚀 Earlier this year, Microsoft launched an Automation CoE Blueprint. Now they released the Automation Maturity Model. The goal of the Automation Maturity Model is to help organizations and their partners to think through how they can improve their current capabilities and align them to business outcomes.
🦸🏻‍♀️👩‍💻🚀 The Power BI team announced that the public preview of the low-code web authoring experience for exportable formatted data tables is now available. You can use the formatted table feature to create paginated reports in any modern workspace, including workspaces that aren't in a Power BI Premium capacity.
🦸🏻‍♀️👩‍💻🚀 The Power BI tab in Microsoft Teams is getting a new action bar for interactive reports. The action bar enables users to use all the capabilities they have for interactive reports in the service when they're added to channels, chats, or meetings as tabs in Microsoft Teams.
🦸🏻‍♀️👩‍💻🚀 Here's another monthly update for Power BI. There are a lot of new features, so check out the post for the full details!
💡 Suggest content
Do you have a blog, YouTube channel or podcast that you want us to track or do you know someone creating great content or community tools you think we should be aware of? Let us know about it!
We usually include links to content or tools updates announcements from the past week. If you see a really great blog post or video, let us know one way or another!
You can find us on Twitter and LinkedIn.
🕺 Personas
🤵🏻 Business User
🦸🏻‍♀️ Maker
🧭 Decision Maker
👩‍💻 Developer / Architect
🚀 Admin / Center of Excellence
🛠️ Tools
📅 Events & Webinars