Discover more from Power Platform Weekly
Weekly newsletter with links to Power Platform related Microsoft and community resources. ✍ Curated by Carina M. Claesson, Daniel Laskewitz, Ed Gonzales and Magnus Gether Sørensen.
Over 4,000 subscribers
Welcome to Power Platform Weekly!
Last week Microsoft Ignite was held. In case you missed it - here's the link to the Microsoft Ignite 2023 Book of News. Among the announcements, the following could be found.
Also see the Ignite dedicated section where we have gathered community content with topics related to the event.

Other news:
Have a great week and thanks for reading!
---
📅 Microsoft Ignite
📺 Microsoft Ignite 2023 Announcements for Copilot, Power Platform and some Microsoft 365 Services by Daniel Christian
📺 Microsoft Ignite 2023 Copilot Announcements: Everything You Need to Know (Video) by Lisa Crosbie
📺 Introducing Microsoft Copilot Studio: Build Your Own Copilot with No Code (Video) by Lisa Crosbie
From Power Virtual Agents to Microsoft Copilot Studio - More than a name change by Éric Sauvé
BYOC: Microsoft Copilot Studio by Ana Inés Urrutia
My overreaction to Microsoft Copilot Studio by Ben den Blanken
A Glimpse into Microsoft Ignite Power Platform latest announcements by Ferran Chopo (Forward Forever)
Microsoft Ignite 2023 – my reflections by Carina M. Claesson
📰 Articles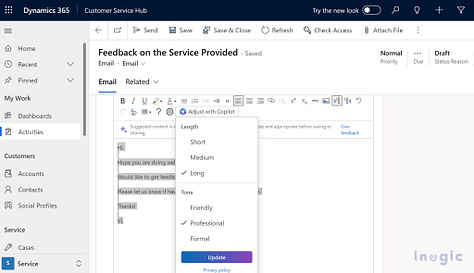 🦸🏻‍♀️ Microsoft has provided various integrations of Copilot AI Capabilities with Dynamics 365 CRM which helps users to streamline and automate their business processes. In this blog, Inogic walks through one of these capabilities i.e. Enable Copilot in Email Rich Text Editor.
🦸🏻‍♀️ One of the features currently in preview that Nick Doelman is superexcited about is Dataverse low-code plug-ins. What are Dataverse low-code plug-ins? They allow you to build server-side business logic specifically for Dataverse.
🦸🏻‍♀️ Dian Taylor noticed a few pretty cool updates to the timeline as she was configuring the timeline for a demo. Read to find out about bookmarks and pinning of activities.
Other articles
🦸🏻‍♀️ Online payments in Power Pages by Nick Doelman
🦸🏻‍♀️ Web Roles and Enhanced Data Model by Oleksandr Olashyn
🦸🏻‍♀️👩‍💻 Where have my certifications gone? by Julian Sharp
🦸🏻‍♀️ Enable Copilot in Customer Service and Custom Apps (Dynamics 365) by Nishant Rana
🦸🏻‍♀️ Ask a Question (Copilot) in Dynamics 365 Customer Service by Nishant Rana
🦸🏻‍♀️ Use Copilot to summarize cases – Dynamics 365 Customer Service by Nishant Rana
🦸🏻‍♀️ Finding Your Realtime Event Registration Forms by Megan V. Walker
🦸🏻‍♀️ Create Realtime Marketing Dashboards In Dynamics 365 by Megan V. Walker
🦸🏻‍♀️ Send A Text Message (SMS, MMS) With Power Automate For Free by Matthew Devaney
🦸🏻‍♀️ Secure Microsoft Entra ID connector by Andrew Grischenko
🦸🏻‍♀️ The legal entity data aspect of Dual-writes by Ted Ohlsson
🦸🏻‍♀️ Teams Meetings Corrupted in Dynamics 365 Client Sync by Thomas Sandsør
🦸🏻‍♀️ Design Time Lords by Angeliki Patsiavou
📺 Videos
🎙️ Podcasts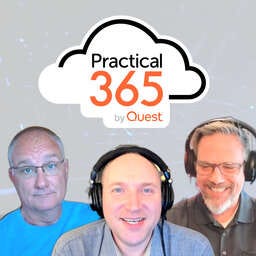 🧭 On the show this week, we talk about Microsoft Ignite 2023 - a smaller show, but does that mean quality over quantity; with Microsoft 365 Copilot GA, does this mean you can have it today? We talk about the US Government's new AI rules, and we're joined by advisor to governments, the military, and now us - Dr. Alex Crowther - who talks about cybersecurity risks you need to be aware of, why they exist, and how to protect against them.
👩‍💻 Eric Newell is the CEO and co-founder of Stoneridge Software, a Microsoft Gold Partner business technology consulting firm specializing in Microsoft Dynamics ERP and CRM. Since 2012, Eric has led Stoneridge Software from a team of 3 to a team of 290 in 9 years with a vision anchored in business excellence and a determination to serve clients with a strategic, solution-focused approach. In 2018, Eric and team founded Levridge, a software company focused on delivering business applications in the Agriculture enterprise. In 2021, Eric released his book "Mastering Microsoft Dynamics 365 Implementations" as a comprehensive guide to implementing Microsoft ERP and CRM software successfully.
👩‍💻 In this episode, Daryl and Scott talk to Erik Donker about ethical hacking and his tool, PrettifyMyWebApi for Microsoft Dataverse.
📅 Events & Webinars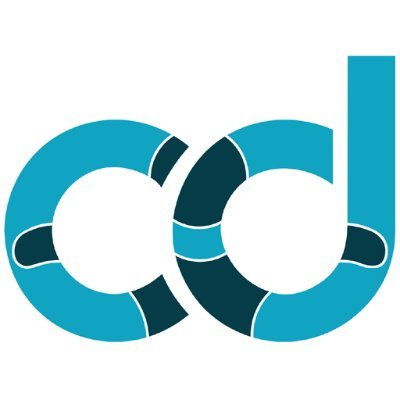 (📅 November 25)
Collabdays Lisbon is a one-day, non-profit event built on top of seven previously successful community-driven events. A Microsoft Cloud-focused event including topics like Microsoft 365, Power Platform, and Microsoft Azure with inclusion by design.
(📅 November 27-30)
ESPC helps IT Pros, Developers, Makers & Business Decision Makers achieve project and career success with leading Microsoft technologies.
(📅 February 1-2, 2024)
CTTT is a Microsoft Cloud Community event with the purpose of bringing technology and community leaders to Tallinn to share their learning with the local community 
(📅 February 2, 2024)
Get ready to be inspired and learn at the Microsoft 365 Community Day Miami! This event is all about unlocking the full potential of Microsoft 365, the Power Platform, and Artificial Intelligence. Whether you're a tech enthusiast, a business owner, or just curious about the latest advancements in technology, this event is for you.
💙 Out of the Blue
🤵🏻🦸🏻‍♀️🧭👩‍💻🚀 The star of this week is Microsoft Copilot Studio! It's a new service which is a superset of the functionality that was already in Power Virtual Agents. Examples of extra features are for instance plugins and AI builder features. Copilot Studio will be the place to extend the different Copilots as well as custom Copilots!
🤵🏻🦸🏻‍♀️🧭👩‍💻🚀 New improvements to Copilot in Power Automate were announced! Both for cloud AND desktop flows, like for instance the ability to generate scripts in Power Automate Desktop!
🤵🏻🦸🏻‍♀️🧭👩‍💻🚀 For Power Apps, a lot of new Copilot features are announced as well. Also, there are some new governance features that shouldn't be overlooked (environment grouping + rules)!
🤵🏻🦸🏻‍♀️🧭👩‍💻🚀 Of course, a lot of news came from the Microsoft Fabric front as well. Microsoft Fabric is now GA and there was lots of Copilot news to share!
🦸🏻‍♀️👩‍💻🚀 The direct invocation of Dataverse actions through Power Fx is now GA! It is expected in most regions on December 4th.
🤵🏻🦸🏻‍♀️👩‍💻🚀 A very BIG update from the connectors team! They announced 60+ new connectors and 50+ updates to existing connectors! Impressive!
🤵🏻🦸🏻‍♀️👩‍💻🚀 During Ignite, there were a lot of new features announced, but the normal feature summaries keep going as well! There was a feature summary blog for November 2023 from Power BI this week where features like DAX Query view, Semantic Model Scale-out, and Advanced Filtering for Paginated Reports were highlighted!
🦸🏻‍♀️👩‍💻🚀 Online payments are something a lot of companies can't live without! That's why the Power Pages team introduced online pages for their product! Make sure to check out how easy it is to enable it!
🤵🏻🦸🏻‍♀️👩‍💻🚀 Lots of exciting new features in this blog, like being able to extend Copilot and creation of Power Apps with Dataverse! Check it out!
🤵🏻🦸🏻‍♀️👩‍💻 As we know from other products in the Power Platform, we know how easy it is to leave a comment in an app or a flow. This is now also available for Power Pages!
🤵🏻🦸🏻‍♀️👩‍💻A new button slicer is available in public preview. It looks way better than the old tile slicer!
🤵🏻🦸🏻‍♀️👩‍💻 The Power BI team has been busy! There are also new card reference labels available now in public preview!
🤵🏻🦸🏻‍♀️👩‍💻 There is now the public preview of the new Explore feature, where users have a lightweight and focused experience to explore their data in Power BI.
💡 Suggest content
Do you have a blog, YouTube channel or podcast that you want us to track or do you know someone creating great content or community tools you think we should be aware of? Let us know about it!
We usually include links to content or tools updates announcements from the past week. If you see a really great blog post or video, let us know one way or another!
You can find us on Twitter and LinkedIn.
🕺 About the "Persona icons"
🤵🏻 Business User
🦸🏻‍♀️ Maker
🧭 Decision Maker
👩‍💻 Developer / Architect
🚀 Admin / Center of Excellence
🛠️ Tools
📅 Events & Webinars